The group's core business is the delivery of goods, services, and digital solutions to the aquaculture industry.
Our business concept is to contribute to responsible aquaculture through our deliveries.
Our contribution to responsible aquaculture will ensure that future generations can also live off and harvest from the sea.

Quality at every stage is not just a slogan, it is our working method. We deliver 100% quality and the very best way to achieve this is by having control of the value chain, as we do today.

Martin Knutsen, Team leader for production and service
Løvold AS – design, analyses, calculations, procurement of good raw materials, high-quality production and good logistics solutions ensure quality at every stage.
Løvold System – develops smart and innovative digital solutions in collaboration with the aquaculture industry. Havbruksloggen
is an inspection and maintenance system that monitors facilities, thus identifying the need for adjustments and replacements. Vessel is a documentation and maintenance system developed for boats and floating facilities in the aquaculture industry. The system contributes to increased safety, operational stability, and overall control.
Preventing equipment from going astray
The system has been expanded with a module for reporting end-of-life equipment to prevent it from going astray, through collecting used equipment and delivering it for appropriate reuse or recycling.
For our system developers, the digitalisation of aquaculture and its impact is a driving force. The better control you have on production in a fish farm and the associated processes, the easier it is to take good steps to improve animal welfare, have fewer escapes, and less equipment going astray, etc.
Comprehensive safety is our overarching mantra. Our systems shall ensure control and safety.
– Magnus Skyrud Jensen, CEO Løvold System
Emergency preparedness
Emergency preparedness is also an important area for us. Having safe and secure operations in the maritime industries and good emergency preparedness is crucial and necessary for companies and players to succeed.
We recently entered into an exciting collaboration with Nord University and Øvelses Nord.  Together, we are establishing a national emergency preparedness forum that brings together decision-makers from the aquaculture industry. The first emergency preparedness forum was held in April 2021 and assembled 40 invited guests who are decision-makers at the strategic level. The key message was that increased focus on emergency preparedness and response is necessary in the aquaculture industry and society in general.
Our overall sustainability goals are:
1.     100% safety = zero accidents – in our own production
2.     100% control of our deliveries = zero errors in deliveries
3.     100% quality = zero escapes related to equipment failure
4.     100% control of own waste and zero unnecessary waste from production
We see this part of our business in particular in the context of UN Sustainable Development Goal 12, which is about ensuring sustainable consumption and production patterns.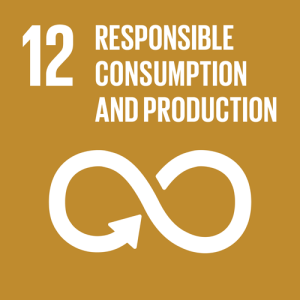 In our own production, we have a particular focus on:
Sub-goal 12.2, which is about achieving sustainable management and efficient use of natural resources
Sub-goal 12.4, which is about achieving more environmentally friendly management of chemicals and all forms of waste throughout their life cycle.
Sub-goal 12.5, which is about reducing waste volumes.