Article taken from an.no, written by Lars Robertsen.
–  "When we read that the building that previously housed Bodø Radio was going to be demolished, we quickly decided to head over to take a look. Initially, we had the reuse of the glass from the windows in mind. But when we got there, I fell in love with the rusty steel façade panels. And then I thought we had to try to secure both of these things."
So says an enthusiastic Ellisiv Løvold. She is Head of Markets, Relationships and Development at Løvold Solution. Her husband, André Løvold, CEO of the company, nods in agreement.
It started with a newspaper article
According to André Løvold, it all started with a newspaper article in Avisa Nordland.
–  "That's how we located the first building we could possibly reuse. Our first potential donor building."
He contacted the owners of the building, who said yes.
–  "We could just help ourselves, but it had to happen quickly. Because the company that had been hired to demolish was already in place," said the couple.
It was on November 14 that the newspaper reported that the building in Vestbyen was to be razed to make room for a new six-storey building. John Martin Berglund and Lasse Nilssen are behind the development of the new housing project.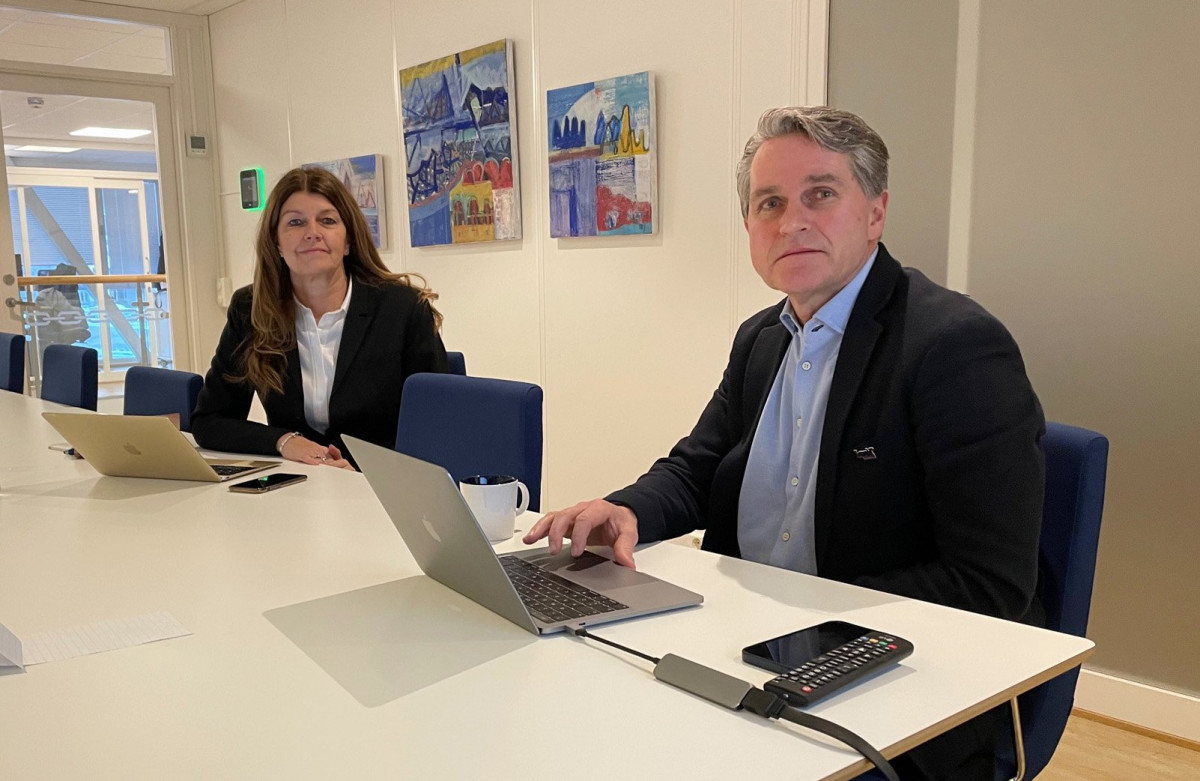 Gathered people
– "We went on an inspection the next morning. We brought along people from several areas in our own organisation and the company Newsec, which provides janitorial service for us. We were then up and running. The façade panels were taken down in a hurry and the windows were taken out."
Through the company Løvold Solution AS, they own, among other things, Løvold Havpark at Rønvikleira. The building stock is 9,500 square meters and contains the former Bodø freezer terminal and a newer building from 2016. Here, they wished to renovate and build more premises to create a centre of expertise for suppliers of goods and services to marine industries.
– "We are in the process of looking at the possibilities in connection with the fact that we want to build a new building. We want to do this to get better structure and logistics. In short, we want to tie the buildings together.
"Huh? What is that?"
It was at a very early stage of this process that donor buildings were brought up by the architects.
– "Donor building is a new term that has emerged recently. When we mention the word to someone, we often get the following response: Huh? What are you talking about? And I get them. I usually compare donor buildings to a car that you use for spare parts. Or you could say that a donor building is a parts building. In both cases, parts are removed and reused."
Now, they have 10 pallets of window glass and 14 pallets of façade panels stored in Klinkerveien 6-8, which is the address of Løvold Havpark.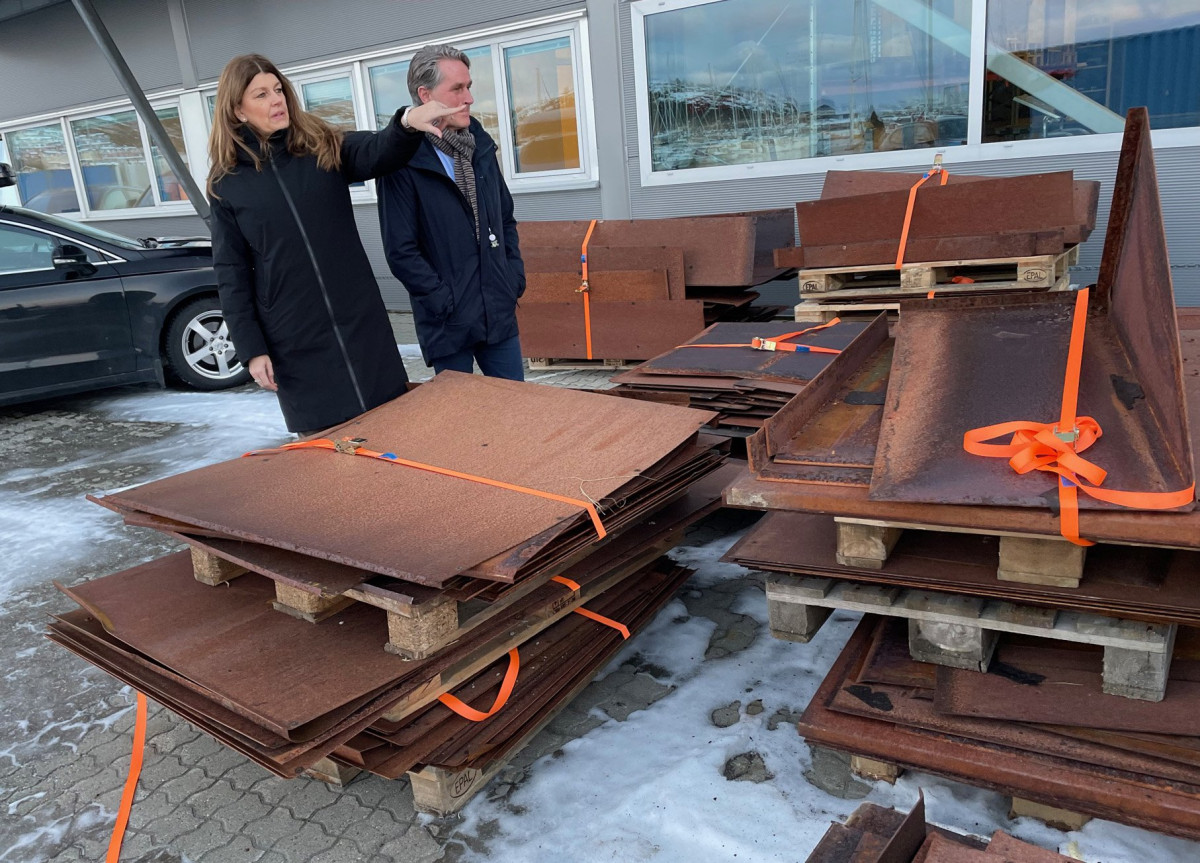 Why are you doing this? Isn't it easier to buy new?
– "Throughout the design of the Havparken, we have had a strong focus on the environment, both in the vision, content, and concept. If we are to take sustainability seriously, reuse is important. I would say absolutely necessary. This challenges us on many levels. It is also challenging for developers and architects, since you actually have to think new when using old things. You can look at many parts of the food industry, where they have come further. For example, with "Too good to go." There's a lot of other stuff that's too good to go. We need to take these thoughts into other industries where they're not that common. For us, it's also exciting to be a bit of a "first mover", to quite simply make a contribution in the right direction by trying to make it happen," says Ellisiv Løvold.
Property developer John Martin Berglund, who owned the building that was demolished, tells AN that he is very happy that Ellisiv and André Løvold contacted him.
– "It's great that the items can be reused instead of being thrown away. I encourage others to do the same when they know we're going to be demolishing something. Normally, it is the slate on the roof that is most popular. But there are lots of other things that can be reused. In our own family, we also take care of objects that are fully usable," says Berglund.
Is donor building a new term for you?
– "It's very new to me. We will almost certainly work more with this."
Blazing a trail
Reusing ordinary houses has taken place over time. In the 1800s, it was not uncommon for a log building to be taken down, and for the logs to be numbered, transported, and rebuilt elsewhere. This could happen up to several times. After the war, German barracks were reused for housing, workshops, and warehouses.
On the commercial building front, there are currently several pioneer projects. With the reuse project Kristian Augusts gate 13 in Oslo, Entra Eiendom has been an important driving force.
And in both the county capital and the north, Løvold Solution is becoming a player that is blazing a trail in this field.
– "To me, the word donor is correct in the sense that you are going to save a building and let it live on. That's how I think about the freezer terminal. You're essentially giving a building a new lease of life instead of allowing us to demolish it and building a new one. The question is what you can do to give it a new era and make sure it can live on. Well, if we find the right donor building, we can actually manage to change to provide new opportunities and to meet new needs in relation to what you want to create. That's how using donor buildings gives new life. So, there are a lot of vital parts we need donor buildings to provide. We probably need to do some new things too. But to have this idea in mind is exciting and new for us as well," says Ellisiv Løvold.
Løvold Solution owns other properties, too. Among them is Løvold Næringspark, an industrial park where Vianor and Tools are located in Dreyfusshammaren, as well as two neighbouring buildings that house a fitness centre.
– "There are some older properties there. Some have been extended and some have already been restored. It is a development project with great potential that we can embark on after Havparken," says the CEO of the Group.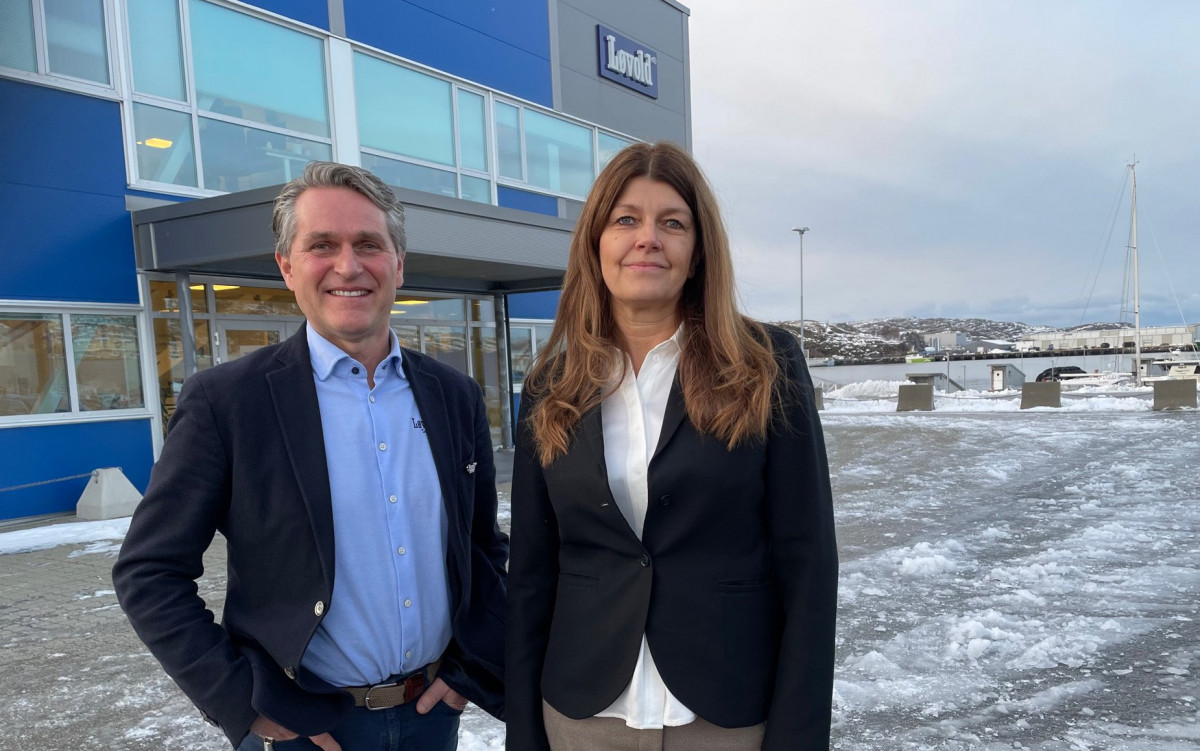 Challenging developers
Internationally, building and construction account for about 40 per cent of greenhouse gas emissions. Energy consumption in buildings accounts for about 1/3 of all energy consumption in Norway, according to the Research Council of Norway.
– "I hope we can use all the experience we are gaining now in the future, too. Most of all, I hope that we can influence and motivate, and that different developers can take the donor building idea even further. They work with construction every day – and have it as their profession. We don't," Ellisiv Løvold points out.
She hopes and envisages that more can be done in this industry when it comes to reuse.
– "I hope that someone see business opportunities and are interested based on an environmental focus. Perhaps it's possible to get together and create an online second-hand shop. There, one can show what is available, for example, that they have façade panels, stone, and steel stairs. There are many such items with a long life that players could choose if they are shown photos and prices, and in that way included it in the project planning."
She is glad that they managed to sneak into the building in Vestbyen before it was demolished. It was their first donor building.
What will you use the façade panels and window glass for?
– "Who knows? This happened somewhat abruptly for both us and the architects."
They are now tasked with integrating the beautiful steel plates into the new building – or into the façade changes at the former freezer terminal. The windows can be used as handrails on interior glass bridges. Of course, they do not have the energy quality required today for the exterior, so we intend to use them inside
Pressed the pause button
For over two years they have been working on the content of Løvold Havpark , which also has a lofty green vision.
"We will create green growth in the blue industry. All tenants must get behind that vision. We have come a long way with the content and the concept. Now, we are working on the building stock. But we figured we couldn't just go right out and get quotes. That's why we've pressed the pause button on construction. We have invited Gunvald Johansen, Bodø Energi, Elektro, Lala Tøyen,  and Norconsult to work together in an innovative partnership on climate optimisations and new solutions for the future. Our ambition is for Løvold Havpark  to become a pilot project for Bodø, both the building and its content.
Now, these players are also involved in thinking about reuse.
It is not common to be contacted so early in the schematic design stage and work together in such a way. This is done in order to find good solutions, preferably together with the other partners. Now, they are helping to reuse part of the building that previously housed Bodø Radio.
Is the search for new donor buildings ongoing?
– "Yes, it's ongoing. We need more. The old slaughterhouse in Bodøsjøen is being demolished. It's a possibility. Otherwise, things are popping up as we go along. We don't really know what is and will be available in this area. So, if anyone has something, or knows about anything exciting, that can be given a new life in Løvold Havpark, just get in touch."